THE FIRST WAR ON TERROR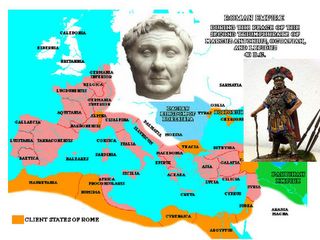 I've been reading
Tom Holland's
well-received
Rubicon
- best described as a " retro history" with modern America as the model for understanding the late Roman Republic. This technique violates major precepts of the historical profession but it also makes
Rubicon
a very refreshing read. The stuffiness and pomposity that are germance to classical history as a field are absent from Holland's prose.
Holland took special delight in drawing the following parallel with the Pirate chiefdoms of the Mediterranean sea:
"THE WAR AGAINST TERROR
...Calculated acts of intimidation ensured that they could extort and rob almost at will. The scale of their plundering was matched by their pretensions. Their chiefs claimed for themselves the status of kings and tyrants, and for their men, that of soldiers, believing that if they pooled their resources they would be invincible.
...The shadowiness of the pirate's organization, and their diffuse operations, made them a foe unlike any other.' The Pirate is not bound by the rules of war, but is the common nemy of everyone" Cicero complained. ' There can be no trusting him, no attempt to bind with him with mutually agreed treaties'. How was such an adversary ever to be pinned down, let alone eradicated? To make the attempt would be to fight against phantoms.' It would be an unprecedented war, fought without rules, in a fog': a war that appeared without promise of an end".
What happened ? Much dithering and desultory, half-hearted campaigns, turning a blind eye to increasing pirate outrages by the Roman elite, until the populace made its will felt.
"...it was a Tribune, in 67 BC who proposed that the people's hero [ Pompey] be given a sweeping license to deal with the pirates. Despite an impassioned appeal from Catalus not to appoint a " virtual monarch over the empire' these citizens rapturously ratified the bill. Pompey was granted the unprecedented force of 500 ships and 120,000 men, together with the right to levy more, should he decide that they were needed. his command embraced the entire mediterranean, covered all its islands, and extended fifty
miles inland."
The result ?
"As it proved, to sweep the seas clear of pirates, storm their last stronghold, and end a menace that had been tormenting the Republic for decades took the new proconsul a mere three months...Even the Romans themselves appeared to have been a little stunned."
A lesson for today ? Maybe. But the ancient world also offers the lesson of
the expedition to Syracuse
, an undertaking of similar magnitude in which the Athenians fared not quite so well as did Rome.