GOTHS AND VANDALS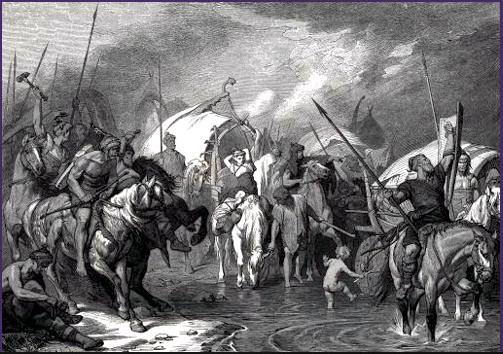 Lexington Green
of
Chicago Boyz
noticed that the British Ministry of Defense seems to have an admiral who echos
John Robb
and
Robert Kaplan
:
"
Very Global Guerillas-esque vision -- From the British MOD
"
"Quoting Rear Admiral Chris Parry, head of the "development, concepts and doctrine centre at the Ministry of Defence", who is "charged with identifying the greatest challenges that will frame national security policy in the future."

He identified the most dangerous flashpoints by overlaying maps showing the regions most threatened by factors such as agricultural decline, booming youth populations, water shortages, rising sea levels and radical Islam. Parry predicts that as flood or starvation strikes, the most dangerous zones will be Africa, particularly the northern half; most of the Middle East and central Asia as far as northern China; a strip from Nepal to Indonesia; and perhaps eastern China. He pinpoints 2012 to 2018 as the time when the current global power structure is likely to crumble. Rising nations such as China, India, Brazil and Iran will challenge America's sole superpower status. This will come as "irregular activity" such as terrorism, organised crime and "white companies" of mercenaries burgeon in lawless areas.'
Hmmm. I'd like to see the map. I bet it looks a lot like the Gap.

Meanwhile, the Brits are probably going to be axing one of their planned aircraft carriers. Wise move to ditch a Cold War anachronism -- or foolish move, sacrificing a valuable 4GW power-projection platform? I suppose it depends on what the person with the checkbook wants to hear.

The Brits are speculating about (reconfiguring for?) a new Barbarian Invasion. And it sounds kinda plausible.

That concerns me."

Globalization and immigration are not incompatible with assimilation nor must they result in catastrophic security problems. However when you opt to allow in large numbers of foreigners (U.S., E.U.), lack real border controls (U.S.), discourage assimilation of immigrants by promoting crackpot multiculturalism (U.S., E.U.), encourage the dole instead of employment (E.U.) , make acquiring citizenship nigh impossible (parts of E.U.) then you have to expect to have problems in your immigrant communities, at least on the margin.
Immigration can be reduced, assimilation can be encouraged, Islamist Imams can be prohibited entry or kicked out, inane economic policies that create permanent unemployment can be reversed. Actions can be taken to prevent autocratic kleptocracies from easily exporting their spillover costs from incompetent governance. Captured terrorists can be tried and hanged instead of being given "culturally sensitive" MRE's.
We have choices. We are not doomed.
UPDATE (LINKS):
DDC STRATEGIC TRENDS
( Hat tip to
UK Fan
)
The DDC link is worth an extended examination along the lines of the
National Intelligence Council's 2020 Project.

"Beware: the new goths are coming"
at
Times Online
The Small Wars Council
"
Modern-day Goths and Vandals threaten the West via cheap flights and the net
" at
The Australian
.